Vespa Indoor Scooter | Ornamental Vespa Chair
Commercial Steel Framed Vespa Seats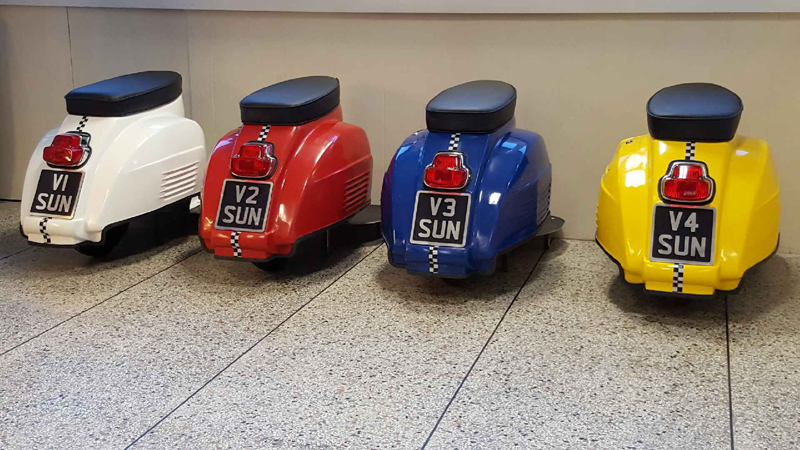 These stunning Vespa Scooter seats are perfect for games rooms, cafes, pubs, clubs and shops. Classic 1960's Vespa 150 Super styled indoor seats complete with fully upholstered seat with your choice of reg plate. Bottom is finished with chrome or black trim, rear light and mock access cover with lock. Seat is made with the highest rated fire retardent foam, vinyl covering is commercial hard wearing quality the same as used in pubs, clubs etc. The seats can be manufactured in many colours so please get in touch if you would like a colour that is not shown in the photo's.
The Vespa seats are made to order so please allow up to 10 working days for delivery in the UK.
There are two different Vespa seat options to choose from:

1. Standard fibre glass Vespa seat (without steel frame). Perfect for home use.
2. Commercial Vespa seat with steel frame. Perfect for heavy use in bars, clubs and shops etc. These seats have an internal steel frame and footplate. They are around 6 inches higher of the ground compared to the standard seat without the steel frame. They also come with an internal wheel that can be viewed in the shown photo's.
| | |
| --- | --- |
| Standard Vespa Seat Photo's | |
| | |
VESPA INDOOR ORNAMENTAL SCOOTER SEAT
—
£225 Standard Seat | £350 Commercial Option
- Classic 1960's Vespa 150 Super Styled Indoor Seats
- Upholstered Fire Retardent Seat With Commercial Covering
- Black & Silver Vintage Style Number Plate
- Customer Can Choose Their Own Personalised Number Plate
- Mock Rear Light
- Mock Access Cover With Lock
- Commercial Option Only: Steel Frame With Footplate
- Commercial Option Only: Internal Wheel
- Seat Dimensions: Standard Option 50cm Height | 85cm Length | 47cm Width
- Commercial Seat Option 65cm Height | 100cm Length | 55cm Width

DELIVERY COSTS

£25 Mainland UK
Off Shore & Scottish Highlands please email us for a delivery price quote.
Sorry only available to UK customers.

Our commercial Vespa seats are delivered in person due to potential damage issues with couriers. Therefore, if you are situated down South and quite some distance from us, we insist upon a minimum of 3 commercial seats being ordered. Obviously, this does not apply if you are not too far from us. Please contact us to discuss prior to ordering.

The Vespa seats are made to order so please allow up to 10 working days for delivery in the UK.

SORRY NO LONGER AVAILABLE