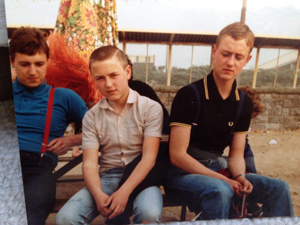 This brilliant image was kindly sent to us by John Danks. It is a pic of John and his brothers from 1979. An absolute brilliant photo which makes the words "This Is England" spring to mind.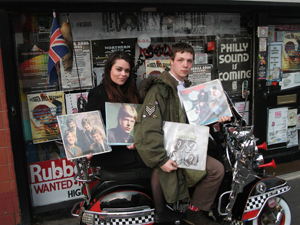 The mod scene is growing and growing and it is brilliant to see the younger generation embracing the music and fashions. This great looking couple can often be seen at mod rallies up and down the country.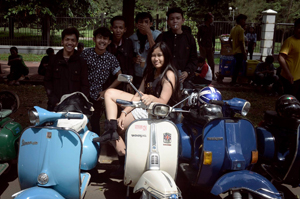 Such is the influence of mod culture around the world, it seems there are not many countries where mod culture has not reached. This photo was kindly sent to us by Aira Say with the following remark "Jakarta MODS MAYDAY 2014". Brilliant stuff..............keep the faith :)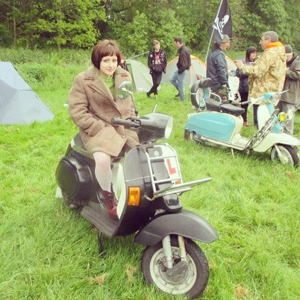 This lovely lady recently had an accident on her scooter and sent us the shown photo and remarks "I came off my scooter 2 weeks ago and while I was sitting in hospital all I was worried about was the damage to my scooter. Guys from my club took it and brought it back to me completely done up as a surprise. What a great scene to be part of!
Caitlin Donegan
This for us is what sets the mod and scooter scene apart from others. When attending a rally you cannot help but notice the friendly environment. Just pop along to either the Brighton, or Isle Of Wight weekenders in August each year to see what we mean :)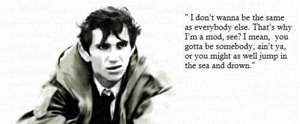 The classic quote by Jimmy in the cult film by The Who, Quadrophenia. The film which gave birth to thousands of mods the world over. Wouldn't this make a great tattoo if tattoo's are your thing?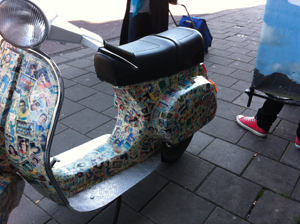 Just when you think you've seen it all :) There must be a scooter out there with every conceivable design possible. This panini football sticker covered scooter is perfect now that we are in the full flow of the World Cup. Mods love to make their preferred mode of transport unique and ultimately, mod is all about standing out in a crowd.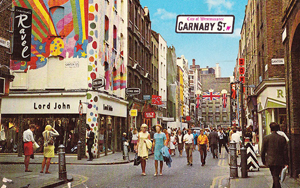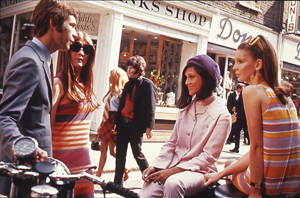 Carnaby Street, London - The home for mod clothing in the sixties. Shown in the first picture is the infamous Lord John shop, the very pinnacle for mod fashion. The second picture shows a group of mods photographed on Carnaby Street in 1969. Notice how sharp suited the man is and the vibrant colours often worn by ladies. The attention to detail and need to look good was of paramount importance. They look as if they could just as easily be walking down a catwalk. Carnaby Street was the favoured shopping destination for mods who wanted quality clothing which would enable them to stand out in a crowd. Members of the Small Faces, the Who and David Bowie, who was a mod in his early days, were often seen along Carnaby Street buying their essential pieces of clothing.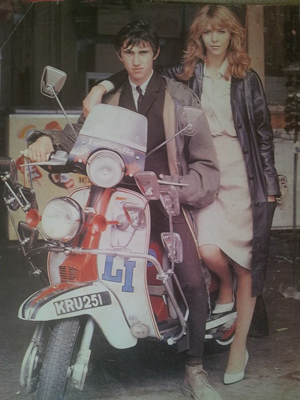 The infamous James Michael Cooper (Jimmy) and Steph in the best British cult film of all time, Quadrophenia. The film that helped catapult the mod movement in to the mainstream and was a key component to the mod revival of the late 1970's / early 1980's.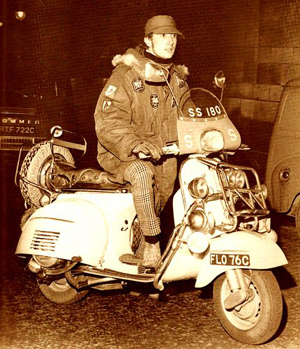 The late great Pete Quaife, founding member of one of the best bands of all time, The Kinks. Pete was a mod and is seen here on his Vespa SS 180 in the mid 1960's. RIP Pete.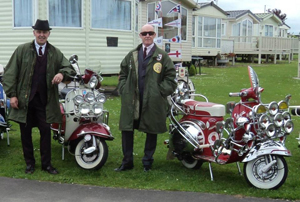 A recent photo sent into our facebook page which I could not resist sharing on the site. Absolute class!! Mod is something that is a way of life and never leaves you. Great music, great clothing, beautiful scooters and a brilliant scene. What else could you want? lol :)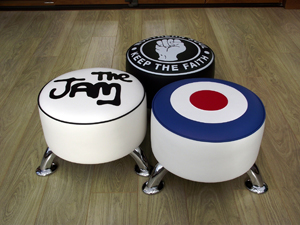 New image of the beautiful mod footstools that we sell. I admit they are not cheap, but each one is handmade in England and they are simply stunning. The feedback we receive is better than any other product and that is saying something as we sell thousands of fishtail parka's :)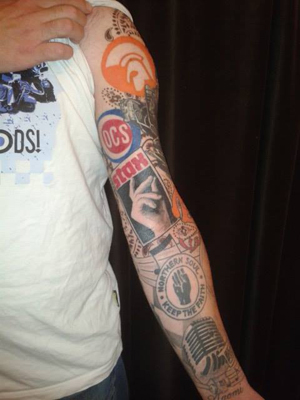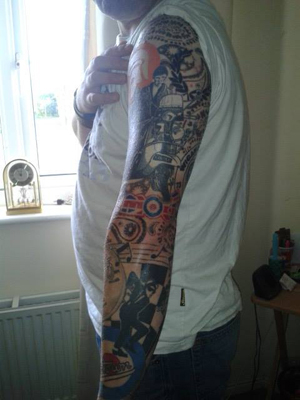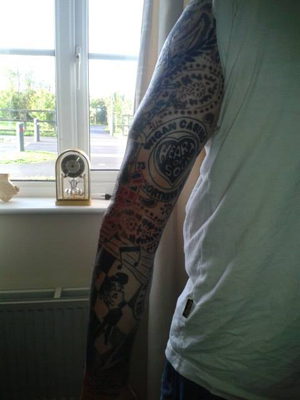 Please check out our facebook page. 47k members and rising rapidly. We are receiving many posts relating to mod tattoo's. This particular arm belongs to Glyn Arnold. I must say it is one of the best sleeves that I have ever seen. Quality art work :)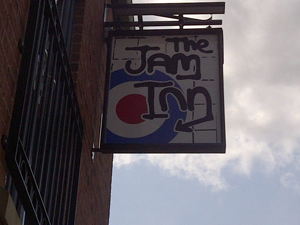 What a pub name!! I believe this public house resides in Wakefield, Yorkshire. I hope they play the Jam songs whilst supping a nice cold one :)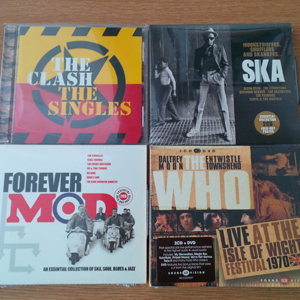 Get yourself down to Asda or Tesco's. All this cracking music for £18. I know CD's are no longer fashionable, which inturn has driven prices very low. Perfect for the car :)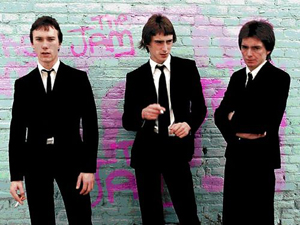 WILL THEY EVER GET BACK TOGETHER?
This is the question often debated on forums and social media sites around the world. I've lost count regarding the number of times this issue has been raised. Of course, Mr Weller himself, is the only person who will ever know the true answer to this question. Arguments aside as to whether The Jam are a mod band or not, that is another debate :) What is clear is that The Jam are one of the best bands of all time and were the band of choice amongst mods during the revival movement of the late 1970's / early 1980's. The Jam spoke for a generation and it is hard to imagine bands ever being able to achieve such a feat in modern times. Music was very different back in the eighties as indeed was the political environment of Britain. Paul Weller's ability to write songs so socially in tune with Britain at the time is similar to several punk bands of that period. The Jam in essence started out as a punk band who were heavily influenced by the mod scene and 1960's bands such as The Who and the Small Faces. This ultimately led to them evolving in to the band we all know and love.
Personally, I do not think a reunion will ever materialise. Paul Weller is a man of his word and he has in the past, clearly stated that The Jam will never reform. For many fans across the world this is bad news, but equally many fans do not want to see any reunion take place. Fans argue that it would never be the same and we should remember The Jam in their prime, when they were clearly the BEST BAND IN THE WORLD!!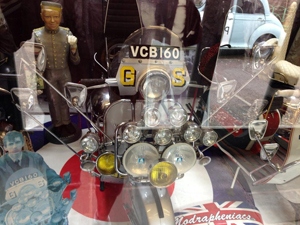 What a brilliant display based of course on the Who's cult film Quadrophenia. Check out the Bell Boy.... I wonder where he was purchased as I wouldn't mind one :)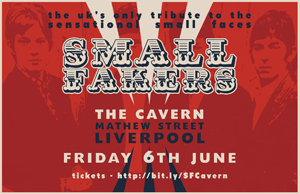 The Small Fakers will be playing at the Cavern Club in Liverpool on Friday 6th June 2014. The Small Fakers are the UK's only tribute band to sensational mod icons, the Small Faces. The lead singer, Matt, is Steve Marriott reincarnated :) Close your eyes and the vocals are spot on. Matt is even the same size and build as Steve. Honestly, it is uncanny and a night you do not want to miss out on :)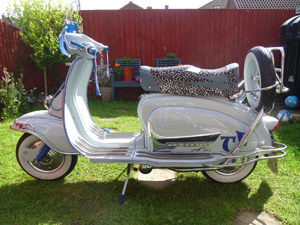 A beautiful TV175 Series 11 Lambretta finished to a high standard :)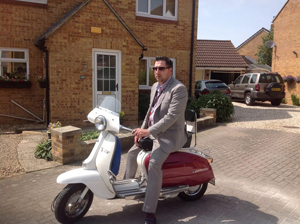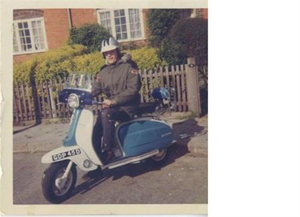 Hi guys just a short story about my lambretta li125 . It was my dads and he was rebuilding from scratch until 5 years ago he sadly passed away to cancer so my mother and sisters gave it to me for my 40th and I have been finishing off the touches myself as I always wanted to follow in his footsteps. Like father like son enjoy reading Russel Slade.
What a great guy and I'm sure his father will be watching down extremely proud.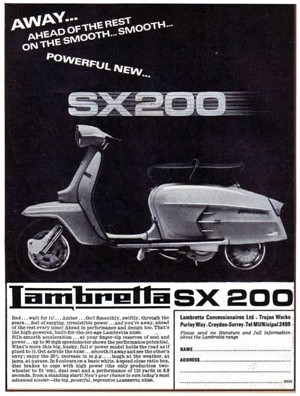 The beautiful Lambretta SX200. One of the rarest and most sought after of all scooters. Prepare to dig deep as they fetch silly money these days :)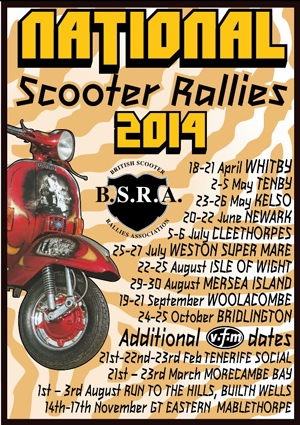 The biggest and best national scooter rallies for 2014. Be sure to attend at least one scooter rally because you will have a fab time :)
An old photo sent to us by facebook member Cath Bliss. Cath has no idea as to who the gentleman on the scooter is. The photo is simply inscribed on the back with the name Brian. Love the old photo's :)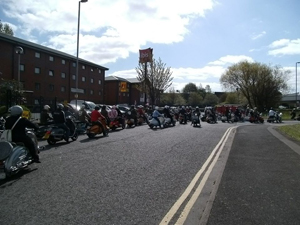 Kindly sent to us by Dennis M Morgan. April 2014 - Small Heath Birmingham, Great Sunny Day For Being Out On Two Wheels. Thanks Dennis and all the best :)