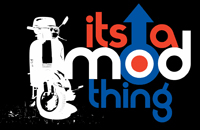 It's A Mod Thing | Mod Clothing And Fishtail Parka
CHRISTMAS INFORMATION
U.K. orders need to be placed with us by 12 noon on Friday 21st December 2018 to ensure Christmas delivery on Monday 24th December 2018.
We are up-to-date with our orders and therefore an order goes out the same, or very next day it is received. We use DPD Next Day delivery for all U.K. orders. All parka's are prepared and boxed throughout the summer months so please do not worry about receiving your parka in time for Christmas. We won't let you down like some of the large well know internet giants who continually do so.
Our last proper day at work is Friday 21st December 2018 and we will not return to work until Wednesday 2nd January 2019. All emails will be dealt with during the holiday period.
Christmas Exchanges / Returns need to be received back with us by Friday 11th January 2019. Any goods received after this date will not be dealt with. We thank you for your continued support. Without our customers, especially those who buy every year, we wouldn't be in business. A sincere thank you and we wish you all a very Merry Christmas.