Mod Footstools | Mod Footrests | Retro Footstools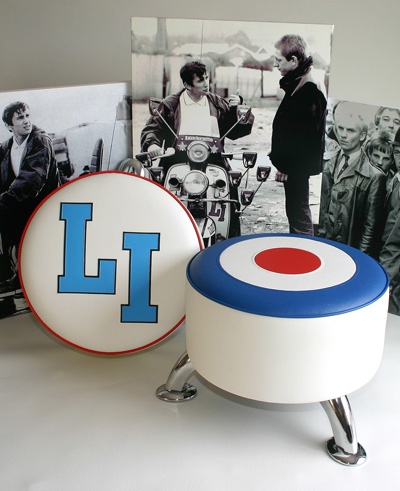 We are excited to offer these stunning mod footstools for sale. They are handmade in England to a very high standard!! The faux leather vinyl sits on 3 inches of foam which inturn sits on top of a wooden base.
They are a stunning addition to any home and look especially good when placed on nice wooden flooring.
We only use high quality vinyl leatherette specifically designed for upholstery to produce our mod footstools.
Measurements are 46cm in diameter with an overall height of 34cm.
View the images to see how good these footstools look. They are visually stunning and make the perfect focal point of any room.
***All footstools are securely boxed and sent using tracked & insured delivery. Please allow 10 business days for the stool(s) to be delivered as they are made to order.***
Each Footstool Costs £165
UK Mainland Delivery £15
Off Shore & EU Delivery £35
Sorry our footstools are not available Worldwide.
The Who

Small Faces
Worn / Vintage Effect

Union Jack
Worn / Vintage Effect

German Flag

The Jam Sound Affects

German Target

Mod Target (Blue/White/Red)

Coffee Target

Pink Target

Italian Target

Lambretta LI

Lambretta SX

Lambretta GP

Lambretta TV

Vespa GS

Vespa PX

Mini Classic

Mini Sport

The Jam Union Jack

The Jam Mod Target

The Jam

Northern Soul (Black Background)
Worn / Vintage Effect

Northern Soul (White Background)
Worn / Vintage Effect

Northern Soul (Green Background)
Worn / Vintage Effect

Northern Soul (White Sides)
Worn / Vintage Effect