Authentic Mod M-1965 Fishtail Parka's | As worn by celebrities such as Liam Gallagher and Kate Moss!!
These are Authentic U.S. Military Issue M-1965 Fishtail Parka's and not reproductions!! From £250 with our Faux Fur hoods, or from £300 for the Real Fur Hood option. As no one likes the cheap nasty looking white synthetic fur, we now replace it with our much nicer faux fur. You can of course choose real fur if you wish.
Faux Fur Hood Option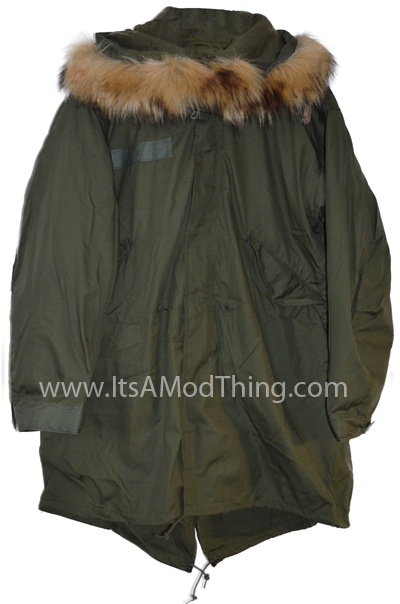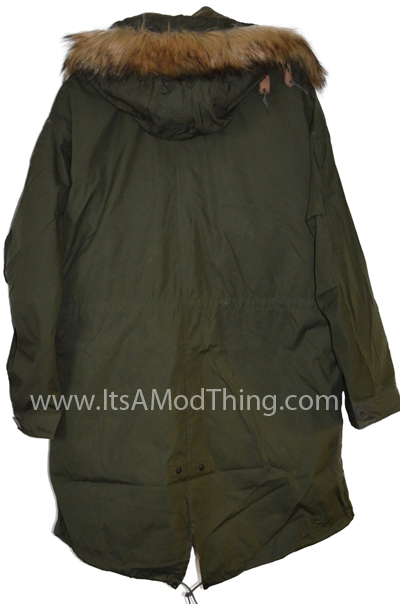 Real Fur Hood Option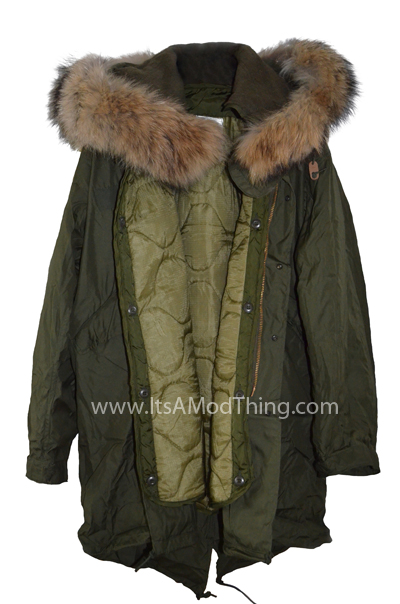 Simply choose either our faux fur, or real fur hood options from the drop down menu on the payment buttons.
REAL FUR HOODS
We use pristine brand new raccoon fur to trim our parka hoods which is of the highest quality. We can produce a thinner piece of fur upon request which is more inline with vintage parka's.
***** To View Our Frequently Asked Questions prior to ordering please click here *****
These authentic fishtail parka's were made extremely large as they were produced to be worn over full military kit. Even a small size gives a chest measurement of 50 inches!! Please see the Sizing Guide shown below.
Genuine Authentic Military Issue!!
Unissued Brand New!!
All Fishtail Parka's Sold Complete With Shell, Liner & Hood!!
Real Fur-Trimmed M65 Parka Hoods Available!!
Tracked & Insured Delivery!!
Great Britain
Tracked & Insured Delivery £8
European Union
Tracked & Insured Delivery £20
Worldwide
Tracked & Insured Delivery £40
Fishtail Parka Sizing Guide - Please Check
| | | | |
| --- | --- | --- | --- |
| Size | Chest | Length, Collar to end of fishtail | Arm, Shoulder seam to end of cuff |
| X Small | 46" (117cm) | 40" (101cm) | 25" (63.5cm) |
| Small | 50" (127cm) | 40" (101cm) | 25" (63.5cm) |
| Medium | 56" (142cm) | 42" (106cm) | 26" (66cm) |
| Large | 58" (147cm) | 42" (106cm) | 27" (68cm) |
| X Large | 60" (152cm) | 43" (110cm) | 27" (68cm) |
Please determine the size parka you require by taking your bare chest measurement and adding 6 to 8 inches on i.e. 42 inch chest measurement plus 6 to 8 inches = 48" / 50" parka size - small parka size required.
Specification
We only sell complete fishtail parka's. You get all 3 parts when buying.
Outer Shell - Olive Drab, made of a cotton and nylon mix. The shells are water repellent and can be worn with or without the very warm, buttoned-in, quilted liner. The fishtail parka is an extreme cold weather / arctic weather coat so it is perfect for severe wintry weather conditions. Each coat has two deep wool lined pockets with pop button closures. The pockets help keep hands warm and items secure. The zips are strong and sturdy and therefore rarely break. They also have a pop button storm proof covering over the zip. The cuffs have storm proof fastenings and there are centre and bottom draw cords to gain the correct fit and keep the cold weather at bay. The most famous feature, The Fishtail, can be worn either buttoned up or left hanging down.
Quilted Liner - Olive Green, Batting 100% Polyester, Outer Covering 100% Nylon. The liner can be fastened into the outer shell in cold weather conditions or removed if not required. These liners are extremely warm and button into the shell perfectly.
Hood - Is wool lined for extra warmth and has drawstrings to provide the perfect fit in extreme cold weather conditions. The standard hood is fitted with a white synthetic fur trim. Please see our Real Fur Hoods page for our much improved real fur hood upgrade options. The hood also comes complete with a storm proof velcro flap attachment to protect the wearer. The storm proof flap buttons onto the liner and shell, and inturn, effectively seals the joint between the shell, liner and hood. This prevents arctic weather from getting inside the coat.
Origin Of The Infamous War Coat
The U.S. Military took inspiration for the design of their fishtail parka's from the Caribou Inuit, Eskimo's of the Arctic region.
In particular, the parka jacket hood is wool-lined and was initially trimmed with real wolf fur. The eskimo's lined their parka hoods with real fur in order to protect themselves from the Arctic wind chill and wetness when hunting and kayaking. Eskimo parka's were often made from caribou or seal and are often treated with fish oils in order to keep their water resistant properties. Likewise, the U.S. Army quarpel (water repellent) treated their fishtail parka's in order to keep the wearer dry.
Customer Testimonials
Just a quick e-mail mate to let you know that I have received my fishtail parka and I'm chuffed to bits with it, looks awesome. Thank you again mate, great coat and a cracking and informative website to match.
Happy new year to you all,
Mr Alan Dennis CGC
Well what can I say. Gonna stick Quadrophenia on again. Think I'll sleep in it tonight. We are the mods, we are the mods. Love it!
Frank O'Reilly
My M65 came this morning and Its condition was perfect, thank you for the rapid delivery and quality of product.
Josh Paine
Thanks to all. My M65 arrived and its a thing of beauty!! The real fur hood is the mutts... literally. Any chance you can get hold of a time machine?!!
Andy Beeson
Hust a quick email, had my fishtail parka about a month now and it's great especially now the cold weather is here. I would also like to thank you for the prompt way you dealt with me as, like an idiot, I ordered the wrong size (people take note of the size guide it is correct and if you don't want a tent go for the size suggested!) I returned the coat and received the replacement in about a week with no hassle at all. The coat is perfect, top quality, and if there are any imperfections it's not worth mentioning them as they certainly don't take away from the overall look. If you want an authentic parka use this company, if you want a crappy look-alike use the high street but I guarantee you will not find anything as authentic as this company's here. I've also had a few original mods (friends and neighbours and even my local butcher!) reminiscing about the good old days when they used to wear them in the sixties when they've seen me in mine – they all recognised the real thing. Sum up "ItsAModThing.com" great service, great company.
Kevin Carey
| Home | Contact Us | About Us | Delivery & Returns | Frequently Asked Questions | Privacy Policy |








© ItsAModThing.com 2020 | All Rights Reserved |