FISHTAIL PARKA | THE ORIGINAL M-1951 FISHTAIL PARKA AS WORN BY MODS IN THE 1960'S
Authentic U.S. Military Issue M-1951 Fishtail Parka's!! Along with the M-1948, M-1951's were the original parka coats worn by Mods in the 1960s. The mohair frieze / nylon liner is much heavier than its successor, the M-1965 fishtail parka and produced using finer materials. M-1951's are becoming increasingly rare and hard to find. We only sell M-1951's which pass our inspection tests. Hoods are fully re-trimmed with real fur, minor repairs professionally undertaken to ensure our customers receive a fishtail parka they can be proud to wear!!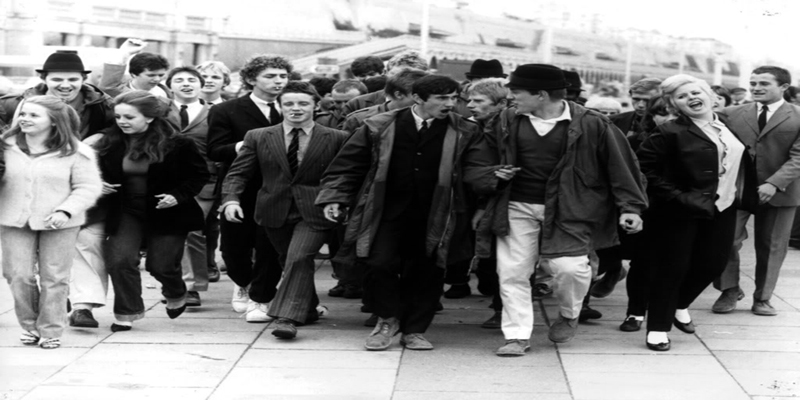 This is the original classic parka that features throughout the film Quadrophenia. A true collectors piece which is very sought after. They simply no longer make parka's of this quality any more. Early Mods never wore the fur hood attachment which buttons into the M51 hood which forms part of the shell. You will note this when watching the film Quadrophenia as there are no real fur hoods insight. However these days, the real fur hood attachments have become extremely popular. The M51's we sell are complete so you also get the real fur hood freshly trimmed with your purchase.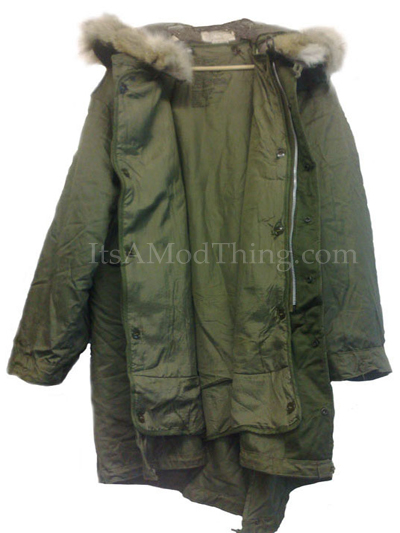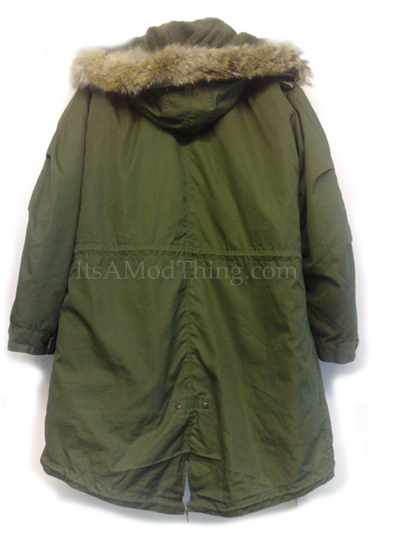 The images shown are of an unissued M-1951 fishtail parka.
Genuine Authentic Military Issue!!
Genuine Mohair Frieze Liner!!
Fully Re-trimmed Real Fur M51 Hood!!
Tracked & Insured Delivery!!
Please email us with your height and chest measurements prior to placing an order. We'll then check our stock and get back to you.
Prices Shown Are Inclusive Of Tracked & Insured Delivery.
Due to weight & value, tracked & insured is as follows:
UK £8
EU £20
Worldwide £50
Sorry No Longer Available. Please see our main website fishtailparkas.com for our Stonetail M-1951 fishtail parka.
The sizing of M51's are irregular and you cannot simply trust what it says on the label. We request chest and height measurements from each customer and then measure each M51 to find the perfect match. As we've been in this game for many years, we know what size parka a customer requires based on their measurements. It is important to get the correct baggy look, but not to look overly stupid by wearing a coat that is clearly miles too big for the wearer. The sleeve length on authentic M51's are notoriously short. Therefore, it is usually necessary to increase the chest size by a few inches to accommodate this. No good lifting your arms up whilst wearing the M51 to find that the sleeves disappear half way up your arm.
The M51 comes in 3 parts. You get all 3 parts, the complete parka when buying:
Outer Shell
Olive Drab shade 107, The M51 shell is water repellent and made of a cotton-nylon blend. The shell can be worn with or without the very warm, buttoned-in, mohair frieze or alpaca liner. The M51 is an extreme cold weather / arctic parka so it is perfect for severe wintry weather conditions. Each parka has two deep wool lined pockets with snap button closures. The pockets help keep hands warm and items secure. The zips are strong and sturdy and therefore rarely break. They also have a snap button storm proof covering over the zip. The cuffs have storm proof fastenings and there are centre and bottom draw cords to gain the correct fit and to keep the cold weather at bay. The most famous feature, The Fishtail, can be worn either buttoned up or left hanging down for the stylish look. Each coat has a permanently attached hood which actually forms part of the shell. This was the look adopted by Jimmy and other characters in the film Quadrophenia; they wore their fishtail parka's without the warm wolf fur button-in hood attachment.
Liner
The liner is extremely heavy in construction and was made using the finest materials. There are two types of lining to choose from: Alpaca, or the 16 ounce Mohair Frieze liners. The Alpaca liners are the warmest and are very thick in construction. They tend to puff the appearance of the parka when worn and therefore, most customers prefer the Mohair Frieze lining option instead. The Mohair Frieze liner is still extremely warm; after all they were made to combat severe Arctic weather conditions. The mohair frieze liner has a white terry-towelling affect on the outside, with the inside being a nice soft nylon lining. The liner has no hood attachment. A complete M51 with liner and hood weighs approximately 3KG. An M51 is much heavier compared to an M65 parka due to the difference in the liners. The M51 liner can be fastened into the outer shell in cold weather conditions or removed if not required. These liners are extremely warm and button into the shell perfectly.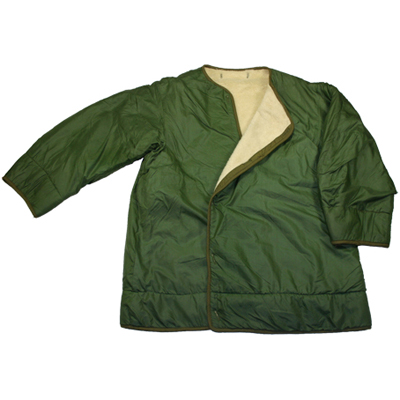 Hood
Is wool lined for extra warmth and has drawstrings to provide the perfect fit in extreme cold weather conditions. The hoods are comprised of 47.5% wool, 12.5% reprocessed wool, 10% nylon, 30% cotton. Each hood is trimmed with real fur. Instructions by the U.S. Military on the hood read:
Hood, Parka, M-1951 - 1. BUTTON HOOD TO PARKA, SHELL, M-1951 OR TO JACKET, SHELL, FIELD, M-1951. 2. FOR PROTECTION AGAINST WIND AND SNOW, PULL HOOD EXTENSION FORWARD AND FORM FUR-RUFF INTO DESIRED SHAPE. 3. TO INCREASE VISION, FOLD BACK FUR RUFF. 4. ELASTIC BAND MAY BE USED TO OBTAIN PROPER POSITION OF HOOD ON THE HEAD. 5. BEAT OUT FROST ACCUMULATION IN FUR RUFF FREQUENTLY. 6. TO AVOID OVERHEATING, FOLD HOOD BACK OFF HEAD.
In nearly all cases the fur deteriorates over the years, so we therefore, re-trim hoods with real fur to ensure that each customer gets a nice fluffy fresh hood that looks stunning. The hoods have a storm proof attachment which buttons onto the liner and shell. This effectively seals the joint between the shell, liner and hood and prevents arctic weather from getting inside the fishtail parka.
Testimonials
I want to thank you for your advice and patience!!!!!!!
I bought it and... it is perfect!!!!!!!!
Thank you!!!!!!
Daniele Di Nota
I received my parka today. Thanks! It looks great with a perfect "faded" look and it fits like a glove. The arm length is perfect. Thank you so much for all your updates over this period. I appreciate it and that made the wait worth it and tolerable. :-)
Kind regards,
Peter
I can't thank you enough. Great vintage coat. The real fur looks the part. I feel like I'm back in my teens. Just need to fix the scooter now and I'm away. Will recommend your services.
All the best
Kevin O'Reilly