Authentic M48 Mod Fishtail Parka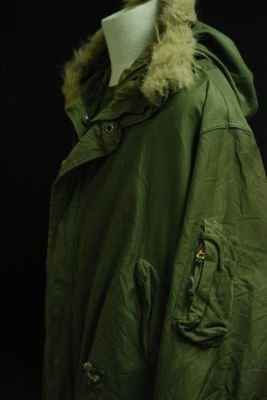 The distinguished left arm cigarette / pencil pocket found on the M48 Fishtail Parka
WE HAVE RECEIVED SEVERAL REQUESTS FROM PEOPLE WHO BUY A PARKA OF A WELL KNOWN AUCTION SITE WHO THEN ASK US TO AUTHENTICATE THEIR PURCHASE. THIS IS EITHER BECAUSE THEY HAVE RECEIVED A RUBBISH PARKA, OR THEY DO NOT TRUST THE SITE AND SELLER. OUR ADVICE HERE IS SIMPLE, WHY BUY OF SUCH A WEBSITE IN THE FIRST PLACE WHEN IT IS KNOWN FOR SUCH PROBLEMS. THESE PARKA COATS ARE RARE AND SHOULD BE BROUGHT FROM REPUTABLE SELLERS ONLY.
Please note that although still rare, M48 outer shells can be come across a lot easier than M48 liners. The liners are the rare and valuable component of the M48 parka. We do not sell M48 liners separately so please do not contact us with such requests!!
M48 parka's were only produced in hugh sizes. They even come up bigger than authentic M51 parka's. Most have 60 to 66 inch chest measurements. Even smalls have a 58 to 60 inch chest measurement so you can see, they were big!! We offer a tailoring service for customers interested in an M48 parka. Our professional seamstress tailors parka's on a daily basis and is very experienced. The work is quite complex in order to keep the parka shape so it is not a job that any seamstress can undertake. We also carry out any minor repair work and retrim the hoods with generous amounts of real fur.
The finest ever produced fishtail parka!! Worn by the early Mods!! Even back in the early sixties these parka's were rare and sought after because they were only in made for one year due to their high production costs. These are as rare as rocking horse s**t. The M48 parka liner is virtually impossible to find these days. These collector pieces are so rare that they cost a small fortune. We do occasionally have a few in stock, please contact us for details.
The M48 parka was the first parka worn by Mods in 1960's Britain. If you want to own the daddy of all mod parka's then it has got to be the M-1948 fishtail parka.
War Coat Specification
M48 Outer Shell - The hood is permanently attached to the coat and is not detachable like the M65 parka. The outer shell was constructed using heavyweight cotton sateen.
M48 Liner - A unique factor with the M48 parka is that the liners were produced with a hood. As mentioned, the outer shell has an attached hood so the liner fastens into place perfectly. The liners were constructed of alpaca wool and are therefore extremely warm and heavy. Each liner also has a chest pocket which is unique to the M48.
Pencil / Cigarette Pocket - The pocket shown on the left sleeve of the M48 parka is what truly identifies them over other parka coats. Quite simply, do not buy the M48 parka if this feature has been removed.
Wolf Fur Trimmed Hood - The actual wool-lined hood forms part of the parka coat and cannot be detached. The wolf fur strips initially used by the U.S. Army were thin and over the years, fur is known to deteriorate quite badly. Therefore, we replace the fur accordingly so that the hoods look far better.
Heavy duty brass Talon zips - These zips are super strong and better than any comparable zips found these days. They underwent vigorious military testing and it is rare to come across an M48 zip which is broken, even after all these years. The M48 zips are 30 inches in length, compared to the M51 parka zip which is 22 inches long. As a result, the zipper on the M48 parka fastens much higher around the neck affording better protection for the wearer.
Pockets - Are wool-lined to keep the wearer's hands nice and snug.
Features / Details
There are many small features which set the M48 parka apart from it's successors.
Drawcords - These were thicker in construction compared to drawcords used for the M51 and M65 fishtail parka's. They have a white inner core running through them which is unique. Normally, the drawcords found in an M48 parka are not fitted with plastic aglets. However, I have come across a couple of exceptions over the years by one specific manufacturer.
Rear Hood Drawcord - This allows the hood to be pulled into better shape around the wearer's head and is another unique feature.
Cotton patch at the top of the zip to prevent the cold metal from touching the face.
Two large cuff buttons on each sleeve to prevent cold weather from entering the body. The M51 and M65 parka's only have the one large cuff button to each sleeve.
M48 Pockets are lined with Alpaca wool.
When you put on an M48 parka you will realise the quality that went into their production and understand why they were only produced for such a short period of time. As far as parka coats go, they are unsurpassed and they simply do not make parka coats of this quality anymore.
Liner chest pocket
Unique feature of the M-1948 fishtail parka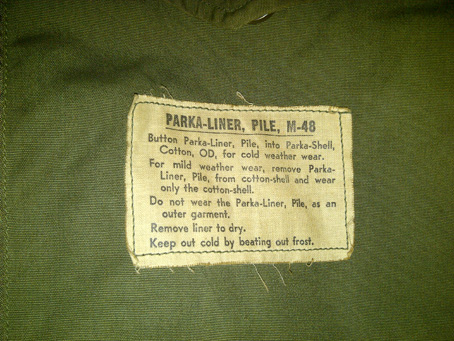 Label as shown on chest pocket.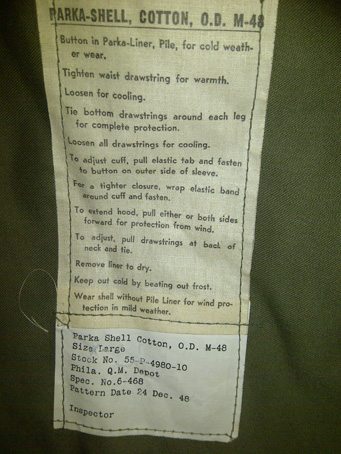 Label shown on inside of outer shell.
EX-1 M-1948 Prototype (Fibreglass Liner)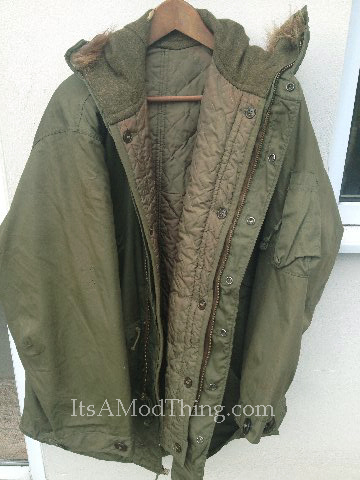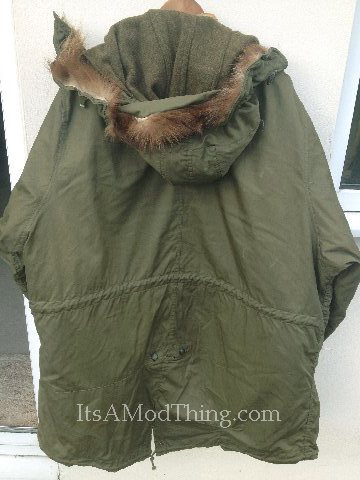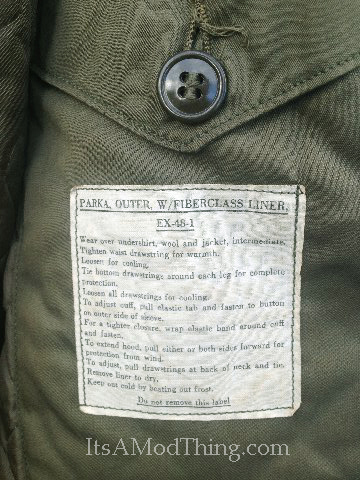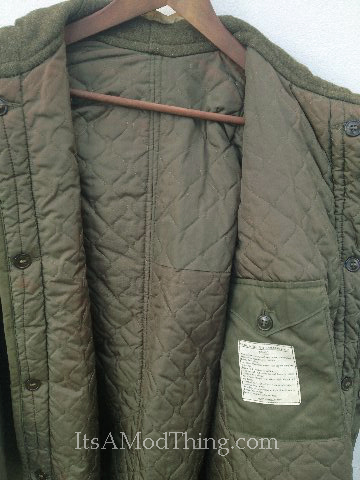 One of only a handful EX-1 M48 Prototype parka's in existence. No one knows for sure how many prototype's were initially produced, but it cannot of been many. This surely is the rarest of all fishtail parka's. The EX-1 M48 prototype was produced using a fibreglass lining.
After World War II, the Army developed a combat ensemble that provided the flexibility of a coat and better layering under extremely cold conditions. The Parka-Shell, Cotton, Olive Drab, M-1948, and Parka-Liner, Pile, M-1948, were adopted in 1949 and produced under specification that was approved on 25 July 1950. The parka-shell was made of wind-resistant cotton sateen in Olive Drab shade 7 and featured a snap-and-slide fastener closure, slit front pockets, and a patch pocket on the upper left sleeve for pencils and cigarettes. The hooded parka liner was composed of wool-pile cloth in Olive Drab shade 30A.